With this post we'd like to introduce a band of/Berlin blog series. On a monthly basis, our co-founder and interior designer Karo will give you an insight into her current favorites. Those favorites can primarily be described as versatile. She will be talking about design, fashion, art, architecture or sometimes even nonsense. However, one thing is certain: you will definitely get some ideas and much inspiration from her thoughts. Have fun!
Today's motto: Circles

The circle is the simplest of all forms. Combined with other geometrical forms, circles really fit into every environment. Be it when it comes to interior design, fashion or even architecture. A very nice example for that is this beautiful mirror from comingB.

The satellites set designed by Bartmann Berlin distinguishes itself in terms of simplicity. The designers combine different sizes of circles and thereby create and wardrobe that is not only very practical but also super good looking. However, circles can also be used in a very complex way, like for example in Olafur Eliasson's bridge Cirkelbroen in Copenhagen.  He managed to connect the different individual parts by bringing together separate circles and combining them with sailing masts - an unbelievably aesthetic complexity!

Thinking of fashion, I really love the impact of folklore these days. Colorful prints, ornaments and patterns are found in almost every contemporary design (for example in Gucci's collection here). Combined with black there the perfect team for this fall season.

Since the beginning of this art week, me collectors room is showing an exhibition of the amazing Cindy Sherman (check it out until April 10th, 2016!). 'Works from the Olbricht Collection' shows pieces of almost every creative period of the self-staging artist. Mainly dealing with sexuality, identity and gender roles, she manages to balance creepy, funny and sophisticated components in a unique and impressive way.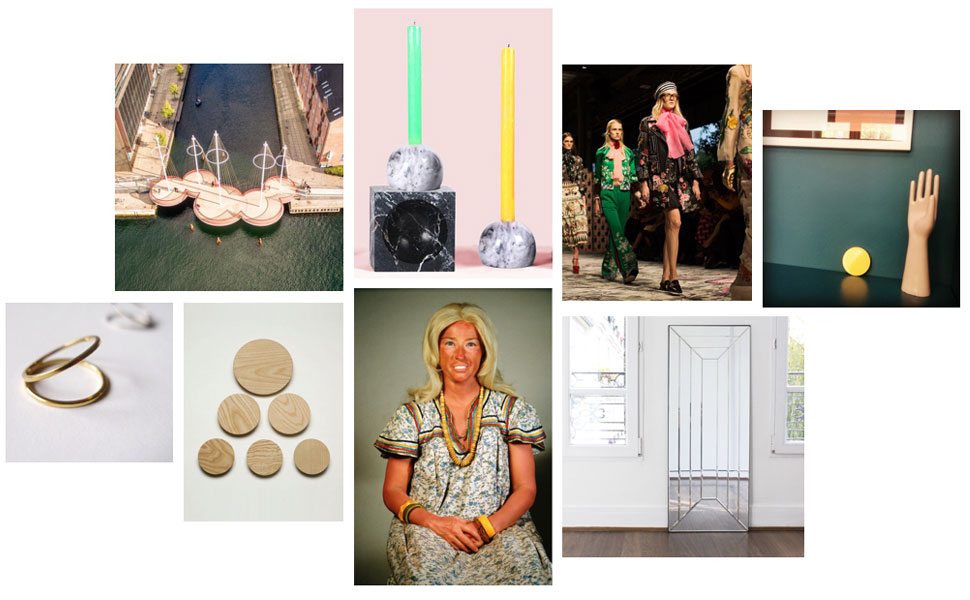 The pics from left to right:

Hoops Ring, Felicious
Cirkelbroen, Olafur Eliassopn
Satellites, Bartmann Berlin
Kugel Set, Fundamental Berlin
Works from the Olbricht Collection, Cindy Sherman
Spring/Summer Collection 2016, Gucci
Miroir Corridor, comingB
Felicious store in Mitte