The days are grey and the nights are getting longer – winter's here guys!
Berliners know, that they have to get through six long months of freezing cold weather, 50 shades of grey (sky) and a smacking breeze from the east. Luckily there are more than just one or two ways to deal with the cold season here.
Some of it are serious soup eating (e.g. at Cocolo Ramen), beauty treatments (e.g. at Jacks Beauty Department), Thai Massages (e.g. at Bootsabong, just around the corner from our shop), really good tea (e.g. from ManuTeeFaktur or Paper & Tea) and a lot of color!

We're very happy, that we just recently added great Berlin cosmetics brand uslu airlines to our portfolio. Their large selection of nail polish colors is amazing and is was really hard for us to decide on just a couple of them for of/Berlin. We did it though and now we're ready to color up your lives and get you ready for the long Berlin winter!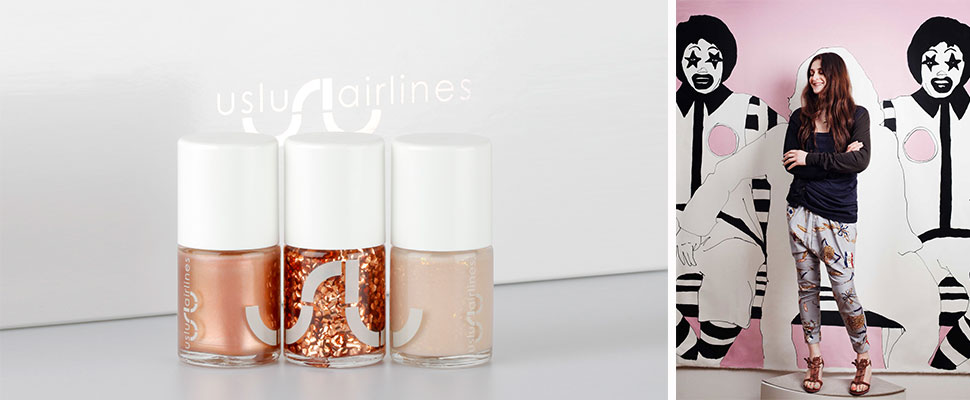 uslu airlines has already been founded in 2003 by makeup artist and girlboss Feride Uslu and Jan Mihm. It all started with her own airbrush makeup system for end customers. It is the finest, easiest and only way to blend the makeup so perfectly, that one achieves a flawless and natural result. It was working with air, that inspired her to name the brand uslu "airlines". And who would have guessed, the products, ranging from airbrush makup, lipstick and lip gloss, concealer, mascara and of course nail polishes (all 5-free by the way!!), are all named after airport codes. So you see, sometimes it really just takes some colorful nail polish to escape the cold in Berlin…

Visit of/Berlin for further info.